CokskiBlue's uBlog, iVlog!
Sunday, October 28, 2007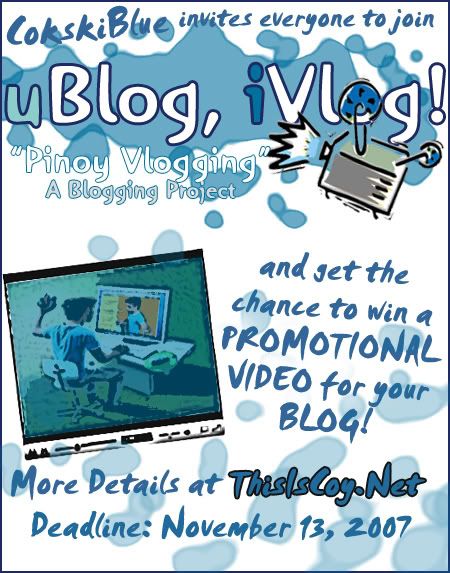 Click:
ThisIsCoy.Net
!
Labels: announcement, contests
CokskiBlue
9:20 AM
6 Comment(s)
---
Featured Flick: One Moment. One Nescafe.
Tuesday, October 23, 2007
Let me just make it clear that this is NOT a sponsored post.
Too defensive, eh? Anyway.
Chilling to Parokya ni Edgar's version of Nescafe's theme song on a cold, rainy day puts me in a very good mood. If I wasn't too lazy, I would've already prepared myself a dozen cups of their 3-in-1 caffeine-powered drink (uh, coffee?).
I've been planning to join the
Nescafe 3in1 Flicks
video-making competition but time is not on my side and preparing for the upcoming season is a higher (if not the highest) priority. So let me just feature this Nescafe video entry by my high school friend, Marius "Yos" Oczon. I think it is so creatively brilliant and has a very huge chance in winning a 13" Macbook! I so envy his skills in Flash Animation. Watch this video and find out why:
Like Yos, I'm a Lost (The TV Series) fan myself, and after watching this flick again, it seemed like it was very
Lost-inspired
. The plane crash was a give-away. Haha! Tama ba Yos? For the win na 'to, pare!
P.S.
I change my mind. I'm joining.
Deadline's tomorrow. Musta naman
.
Labels: contests, feature, friends
CokskiBlue
11:49 PM
10 Comment(s)
---
Sneak Peek: Everything Thailand
Saturday, October 20, 2007
"Akala ninyo bakasyon na kayo?"

I thought my brain just melted when I heard my thesis adviser told me this. After one hellish and toxic semester, it's quite depressing to know that it may never end. Still got tons of requirements due next week and it's almost November. Goodness.

Now you know why my "season break" is taking longer than what was originally planned. And it's been exactly a month already since my last update. Gah. I missss this blog, I miss making videos. And I'm here to tell everyone (uh, anyone there?) that I'm still alive and plans for my next batch of vlogs are now in the works.

Oh, right. I twitted a couple of weeks ago that my Dad went to a business trip in Thailand. I might do a vlog on this with a special guest vlogger (guess who). And now, let me just show you a little preview - a sneak peek to Thailand's culture and performing arts:


Here's my Dad:


And speaking of Thailand, a big shout out to my cousin, Iris, who
flew to Thailand months ago
for work. Cuz! Since Thailand has already lifted its ban on YouTube, you can watch me now. Yey! Hehe. Miss you. (Uh, I think Mufasa there is eyeing for your hand)
And now for some cam whorage with my new Thailand shirt, another panga exposure for everyone. Haha!
More updates in the coming days, guys. I'm back. =)

Labels: sneak peek, travel
CokskiBlue
7:13 AM
51 Comment(s)
---